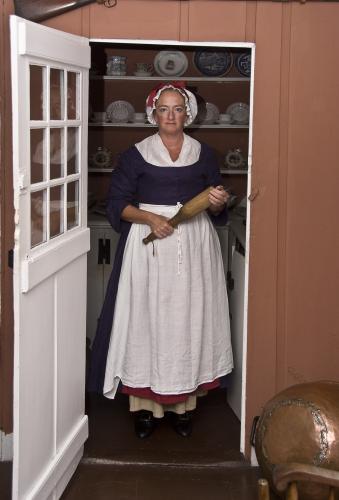 Elizabeth Young (1748-1825) was born in Argyle and married John Headley who was drowned at sea. They had one daughter, Ruth, whom she brough to live with her when she married Simeon Perkins in 1775.  After Simeon Perkins death, Elizabeth moved to New York. We know little about Elizabeth Perkins' feelings on anything from the Perkins diaries but imagine that she must have a hand in directing all the changes to this building that research has documented.
On the House and Children
"Mr. Perkins built this house he was a widower with one child, Roger – and Roger wasn't even here at the time; he was living with Mr. Perkins' family in Connecticut.  So, Mr. Perkins' needs were met by having three rooms downstairs - a large kitchen, a sitting room and a bedroom.   Mr. Perkins and I wed in 1775.  I brought my little daughter Ruthy with me, then two years later Roger came to live and within five years Mr. Perkins and I had three children of our own.
Well, the rats had to make do in the cellar, there was no space up here. "Mr. Perkins", said I, 'something must be done'.  And so, an addition was made to this side of the house – the new kitchen here was originally out-of-doors, you understand.  Also created with this construction was the small bedroom on the other side here, on the front of the building.  Three dormer windows were added upstairs to give light to the sleeping quarters there.  A year later the back stairs here was added.  And this was sufficient. 
However, over the next few years we were blessed with five more children - now Roger and Ruthy were gone by then, but all the same… And so Mr. Perkins arranged for the addition of the new kitchen and servants quarters out back."
On Visitors
"We've had everyone from the Governor of the Province to army deserters!  I have often thought that were we to line them up one after the other, the line would stretch from here to Port Mutton.   Well, in most things, I feel, Mr. Perkins is a generous man.  And this generosity extends to invitations - invitations to breakfast or to lunch; invitations to dine, or to drink tea.  To spend an evening - to spend the night - to spend a fortnight! 
Well, friends are one thing; preachers are something else.  Now fair dues, I know as well as you that it is expected ministers are to be accommodated on rotation in various homes in the community, but I do protest that Mr. Perkins - who has great love for the affairs of the soul - Mr. Perkins arranges to accrue a rather larger proportion of visiting preachers to this house. 
But coming to tea, passing an evening at the house of a friend, and then reciprocating the invitation - this is a common practice everywhere.  It is how we amuse ourselves, especially in the winter months."    
On Gardens
"Mr. Perkins is very particular about what gets planted in the gardens. He uses a 'hot bed' to grow items before the last frost, after which they are moved to the proper garden. I do not believe he really understood the burden of work it places on me.  Everyone must help, including the children.
There are no big farms around here, so it is very important Mr. Perkins says, that every man has his own store of vegetables. Our own gardens have beans, peaks, corn, turnip, beets, cabbage, pumpkins, squash, potatoes – always potatoes, lettuce, and carrots. We also have apple and cherry trees, as well as currents from which me and the girls make wine.  Mr. Perkins' pride however is his watermelons!"