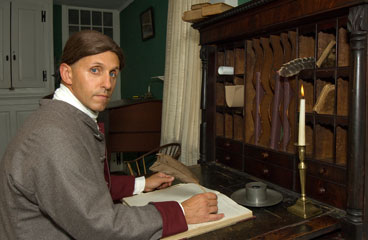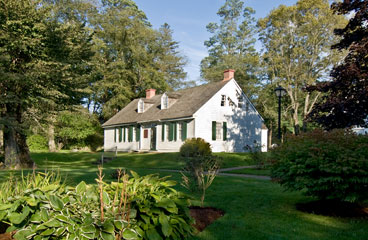 To Our Visitors  
Perkins House Museum will be closed so that work can be undertaken to address structural issues. Our top priority is to ensure the safety of staff and visitors while this preservation project goes forward. 
During this closure, staff at the adjacent Queen's County Museum are available to interpret the outside of Perkins House Museum and to inform visitors about the historical importance of this heritage building and Simeon Perkins. Selected pages of the diary that Perkins wrote between 1766 and 1812 are also on display at the Queen's County Museum. 
For further information go to QueensCountyMuseum.com or call (902) 354-4058.
We understand and appreciate public concerns over the closure of this site and will continue to communicate any changes on the status of the museum through this website.
Who We Are
A Colonial Treasure
This house was built in 1766 for Simeon Perkins, merchant, judge and Member of the Assembly. Perkins was best known for the remarkable diary he kept.
Some of the accounts in his diary provide vivid details of:
Everyday life in a colonial town
Process of building of his house, now the Perkins House Museum
His family's smallpox inoculation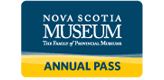 Unlimited Visits
Come for an hour or stay for the day.  The choice is yours with a Nova Scotia Museum Annual Pass.